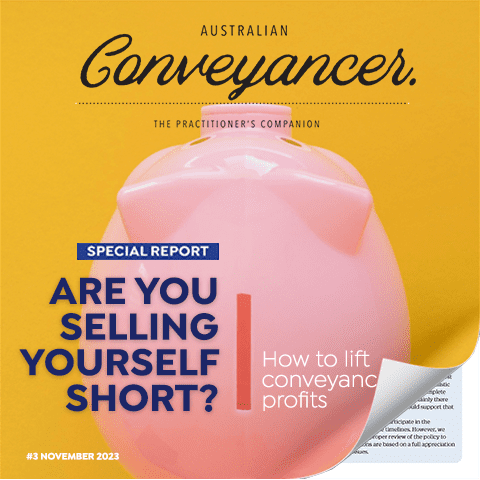 Are you selling yourself short?
This editions special report is all about profitable conveyancing. Many conveyancers carry out highly skilled and potentially high-risk work for far less than other qualified professionals. This edition addresses these concerns along with a Q&A with cyber expert Shameela Gonzalez on the many risks you face as a conveyancer. We also hear about the secret sauce from successful conveyancers. This plus much, much more. 
About the Australian Conveyancer Magazine
The Australian Conveyancer is a monthly publication that dives deep into the topics that matter most to practitioners. Each edition brings fresh insight and while it is powered by triSearch, it is not an advertisement of our solutions. This publication is developed by trusted, independent and highly experienced journalists and editors. They are calling on the industry's business leaders, decision makers and policy makers to provide insights you may may not otherwise get. 
The Australian Conveyancer hosts a variety of information and sources, all based around trending issues in Conveyancing. Below are some of the main components you can expect in every edition. As this national, free publication grows, we want your input, feedback and advice on the topics and inclusions. Lets grow together. 
A controversial question asked to practitioners, with unfiltered answers.
Using our own data, triSearch presents unique trends in the property market.
This months trending topic, as discussed by industry leaders, politicians or influential figures.
An industry leader gives their take on the state of the conveyancing industry.
A calendar of upcoming events and CPD opportunities across all states, as well as helpful hints.
Check out some previous editions of the Australian Conveyancer Magazine and the topics we have explored. All editions are free to download and cover technology, security, compliance & legislation, profitability and much, much more. 
A wolf at the door: Keeping your data safe.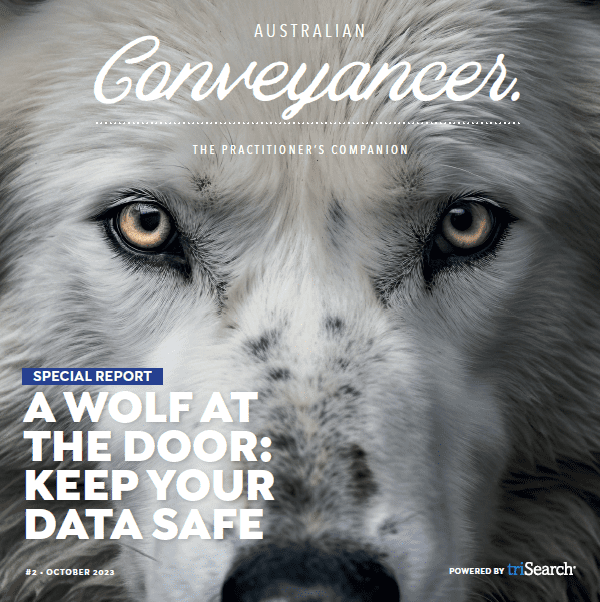 How a new era of tech disruption will reshape Australia's Conveyancing industry.